Years 4/5 Obento「おべんとうマスター」
8 November 2019

-

22 November 2019
This year there are two venues: Gleeson College in the North and Woodend Primary School in the South.
Please note South Event is now fully booked!
Please note the different times and dates for each event.
North:

Gleeson College
Date: Friday 8 November, 2019, 10:45am – 1:00pm
South:

Woodend Primary School
Date: Friday 22 November 2019, 9:30am to 12:30pm
About the Day:
Students will be shown some photos and You Tube clips about Obento. Words like いただきます, ごちそうさま、おいしい will be taught and practised. Then, in groups of two or three with a student or students from their own school, students will make an obento. They will be given a small box filled with rice and they will need to use a variety of Japanese foods to design an obento.
Students will show their final product to the judges. Prizes will be given for most creative and reflective of Japanese culture as well as balance of nutrition.
All students will receive a certificate of participation.
The Obento making will be done in two groups; while not in the kitchen,
students will be participating in Japanese cultural activities under
supervision.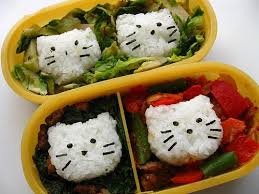 Cost:
Free but only open to JLTASA Members.
Numbers:
8 students maximum per school
Registration:
North: Registrations close by Friday 1 November (unless spaces fill before then!)
Inquiries to Tom Dawson: tom.dawson@gleeson.catholic.edu.au
Obento Master Flyer 2019 (Gleeson)
South: Registrations close by Friday 15 November (unless spaces fill before then!)
Inquiries to Heather Jackson: heather.mansfield@nazareth.catholic.edu.au
Obento Master Flyer 2019 (Woodend)